---
2023 Terminalia Festival. Events so far
Thurs 23 Feb. Shoreditch UK: Elspeth Penfold: A Walk On the Edge with The Glass Onion
documentation
Billie gave us a fascinating talk about the meaning & history of Quechua & an invitation "to observe the edges of the contradictory nature of the world that we presently live in". We walked through 7 radial points. Terminalia - a day for observing boundaries & thresholds.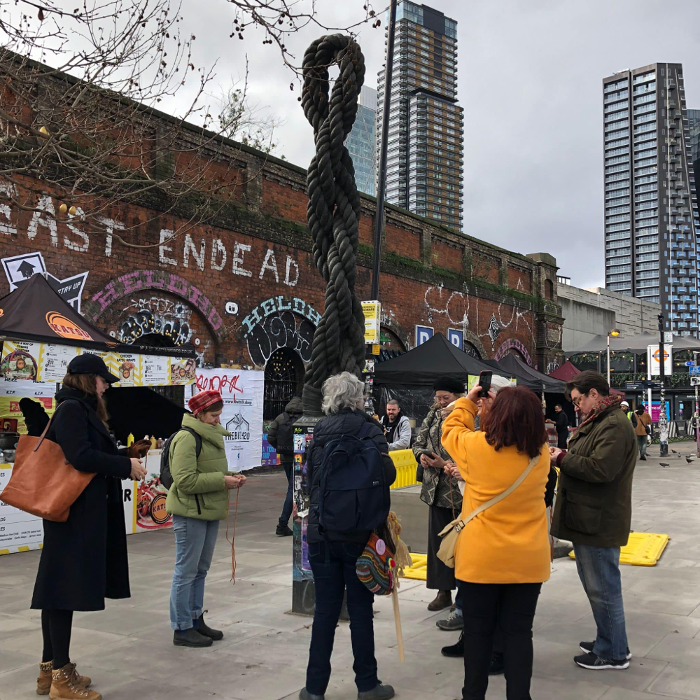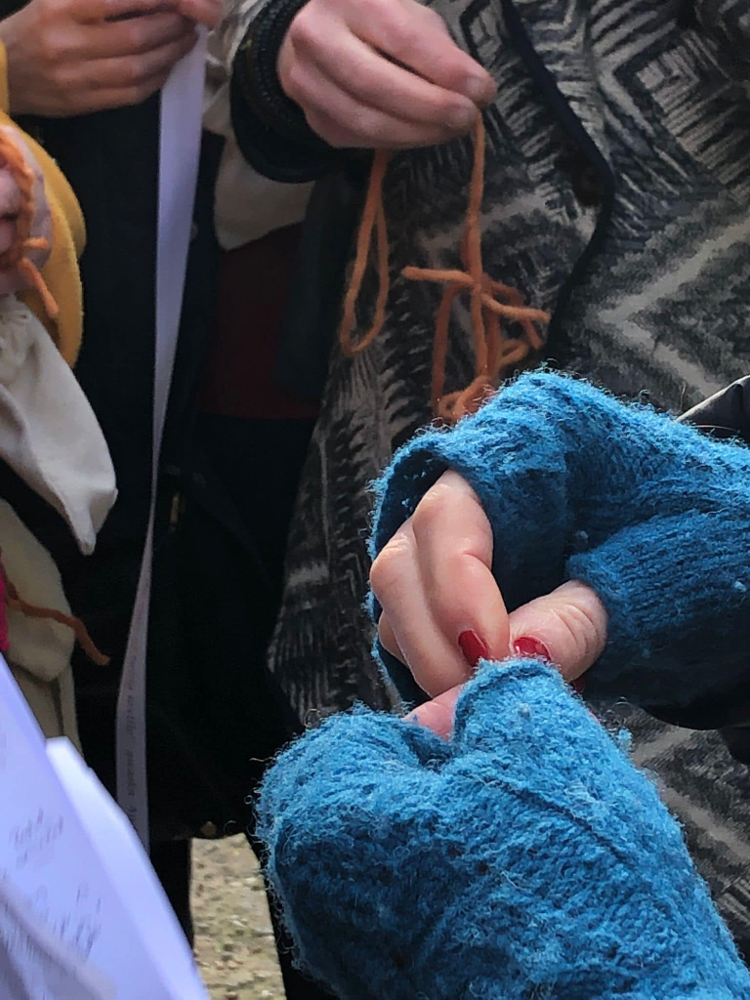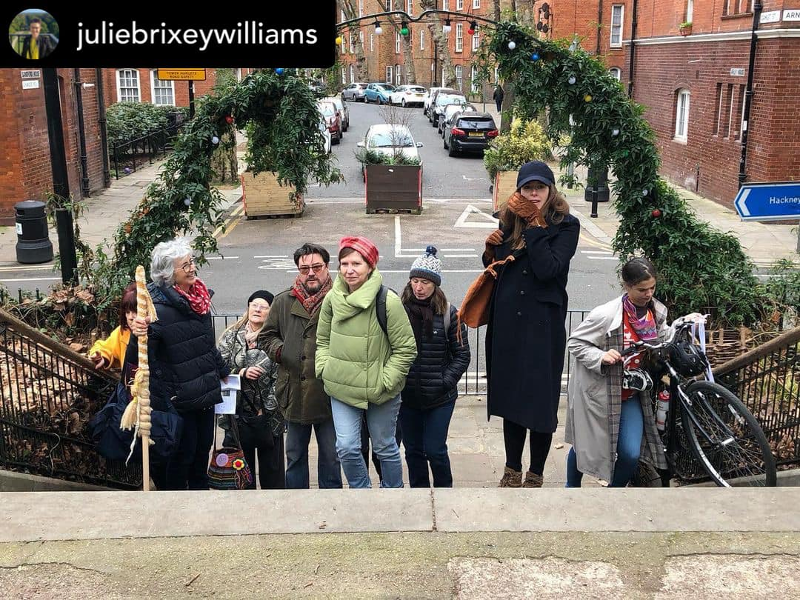 I invite you to join me with Thread and Word. We will walk alone or together and take a view of our walking experience through a glass onion. You might of course prefer rose tinted spectacles .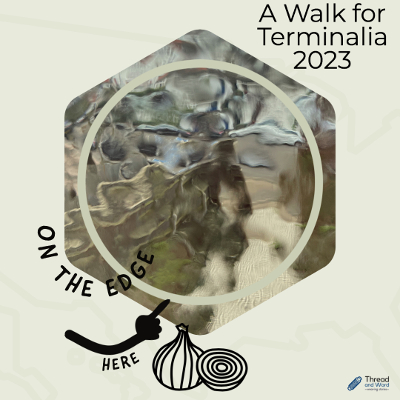 The plan is to look for associations that might be hidden humorous, inspire hope or defy rhyme or reason. This is an invitation to observe, through the glass onion, the edges of the contradictory nature of the world that we presently live in .

To be honest, onions take me to the edge. I think that the onion is very compatible with Terminalia, as a boundary to how you feel physically once ingested. The glass onion might give us a tool to explore things a little differently.

You might like to carry an onion and peel it as you progress or you might prefer to look through the bottom of a glass bottle.

As always feel free to interpret this invitation as you wish. Feel free to wander and see where this takes you.
I will be sharing our experience on the Thread and Word Facebook page and will be delighted to include yours if you are happy to share.
I will be walking in Shoreditch. Contact me if you would like to walk with me: elspethpenfold@yahoo.co.uk
Thurs 23 Feb. 10am. Osaka. Japan: Widdershins Osaka! 2023
documentation
Gareth writes:
Both Chika Ueda, who has participated in each of the five previous walks, and Jerry Gordon whose novel Terminalian Drift spins a story out of his encounters on Widdershins Osaka! 2018 helped shape the walk's structure and co-conjure its interventions and micro-performances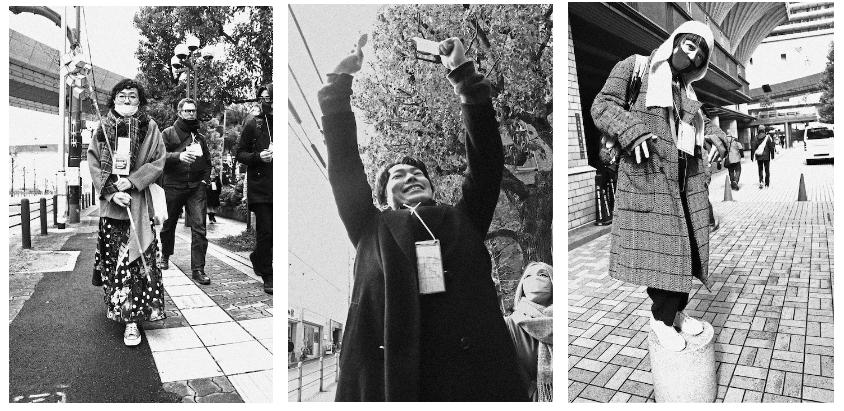 At the outset, a long painted stick or cane (a variation on one of Jerry's signature props) with a cluster of little cubes tied to one end was handed to a participant who was asked to walk in any direction they chose. The rest of the group was instructed to follow. The stick-bearer rolled a set of dice to determine how many minutes they would lead the group in this way. When the time was up the group stopped and the stick-bearer was asked to choose a box from the cluster and open it. Inside was a quote, some instructions and objects such as acorns, a toy, or paper flowers. Together these items asked the walker to give thought to their engagement with the city, perhaps through listening for incongruous sounds, or seeking out hidden fissures in the fabric of the city where flowers might secretly flourish, or identifying micro- landscapes embedded within the wider terrain. Once satisfied, the bearer then handed the stick to another in the group who would shake the dice and set off, again in any direction they chose, and again with the group in tow.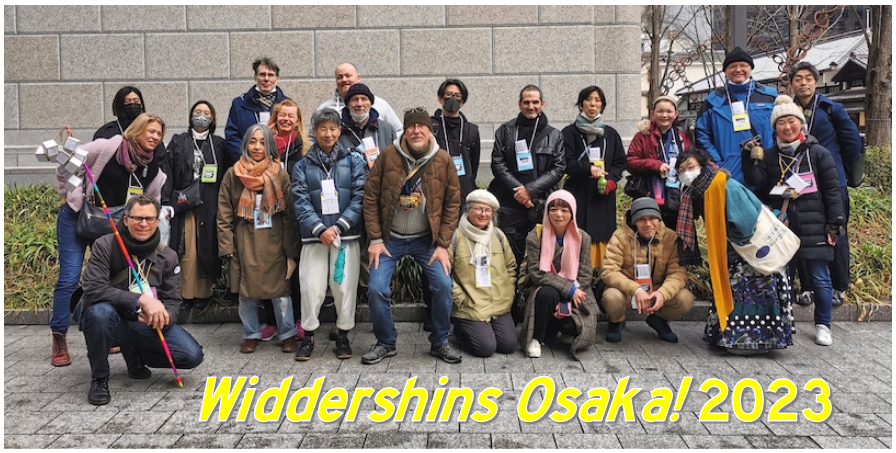 Read the full report here on Widdershins Osaka 2023
(PDF)
Like a discarded wrapper from a Family Mart riceball, Widdershins Osaka! drifts through the city streets on gusty February days.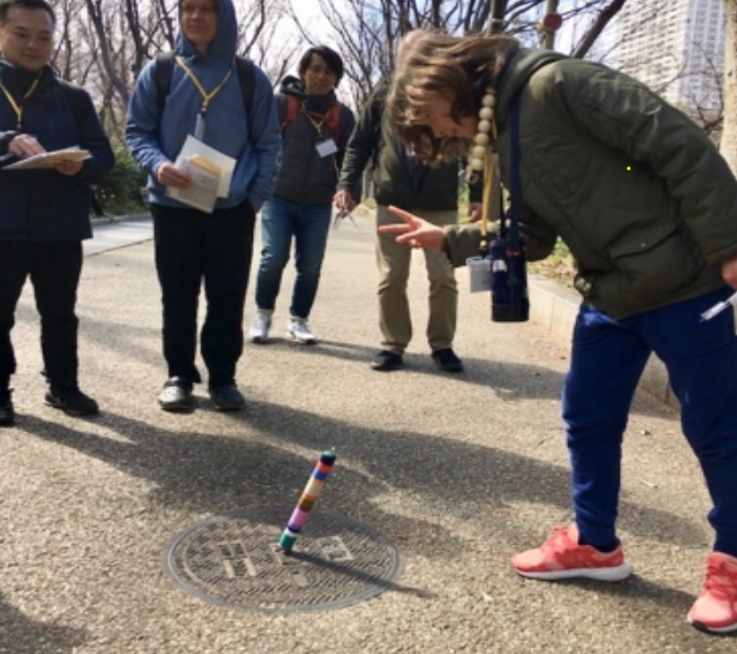 After a hiatus of a year or two the Terminalian Widdershins Organising Committee (TWOC) has recently convened to confirm that this year they will drift again. And we are all invited. But who and what is TWOC? TWOC are archaeologists of the near-future. On their knees, hunched over unstable terrain and fuelled by nothing more than black coffee and good cheesecake, they painstakingly remove the sediments of yesterday to reveal the lost image of tomorrow. Details of this year's gathering are still unclear but so far this much is known: on the morning of Thursday, February 23rd TWOC will assemble in central Osaka for a few hours of urban meander, encounter and interaction. So let's put the date in our diaries and wait for further details.
風吹く 2 月、まるで路上にポイ捨てされたファミマ のおにぎり包装の様に、Widdershins Osaka! ウィダシン ズ大阪!大阪の街を漂流します。ここ数年の休止後初と なる Terminalian Widdershins Organising Committee, タ ーミナリアンウィダシンズ組織委員会(TWOC)が先日開催 され、今年度再び歩くことを改めて発表しました。つま り私たち全ての者が招待されたのです。ところで TWOC とは一体......何者...... TWOC とは近未来の考古学者。膝 まずき背中を丸め、何よりもホットコーヒーと濃厚チー ズケーキを糧に、不安定な地面を覗き込み未来の失われ た像を明らかにするために過去の堆積物を勤勉に実直に つまみ上げ移動させる者。今年度の集まりについての詳 細は未だ明らかにされていませんが、以下のように発表 がありました。2 月 23 日 木曜日 朝 大阪中心部 都 市のうねりに流され偶然の出会いと相互作用を体感する 2 時間に皆さまをご招待いたします。
Meeting Outside Exit 13 Yodoyabahi Stn. Midisuji Line.
For more information contact the TWOC: garethhmjones@gmail.com
Thurs 23 Feb. 10.30am Aberystwyth, Wales. Roger Boyle: Terminalia Walk
Starting from Castle Point (at the sea, below the war memorial) we will follow the route Aber town walls took. This year, we will navigate anticlockwise. It takes about 40 minutes.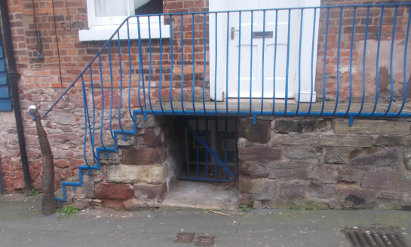 Sign up to the Facebook event. More details about the festival, and accounts of earlier observations of the festival, can be read: https://www.rogerdboyle.net/Terminalia/terminalia.html
Mail Roger at roger@rogerdboyle.net for further info.
Thurs 23 Feb. 11am. Bisceglie, Italy. Walls and Walls of Europe #1: Walking Around the Wall
Sat 25 Feb. 18:30. Bisceglie, Italy. Walls and Walls of Europe #2: Corpi, Confini, Architettura, Potere (bodies, boundaries, architecture, power)
Sun 26 Feb. 10.30am. Bisceglie, Italy. Walls and Walls of Europe #3: Le Mura Della Memoria (The walls of memory)
documentation
We have experienced the Festival by re-appropriating urban spaces, making them become stages for rituals of immersive crossings between history and contemporaneity. Revisiting the ancient custom of Beating the Bounds which involved a tour around the perimeter of a plot of land and is usually connected to the demarcation of a parish boundary.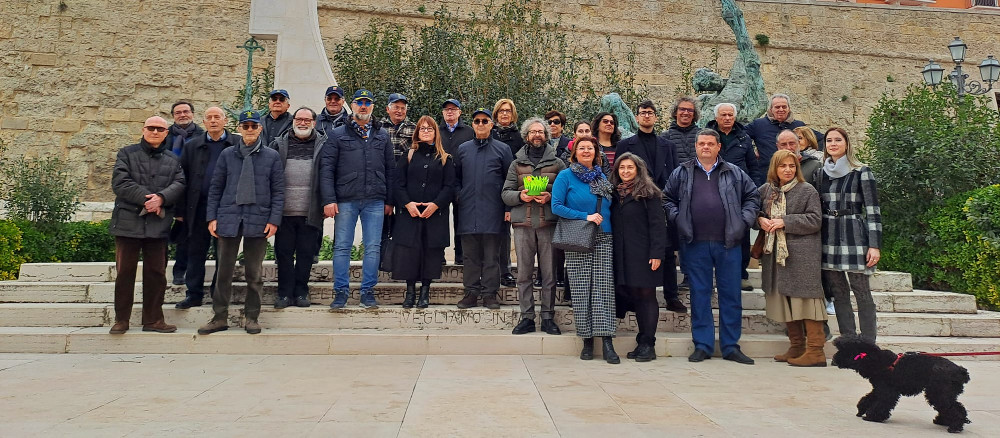 The first meeting "Walking around the boundaries" was dedicated to schools with the participation of some students and their teachers, the action of civic art symbolically underlined ideal boundaries between maritime authorities and civilians who were rhythmically beaten (to the sound of a Tibetan bell) by students with long cane wands.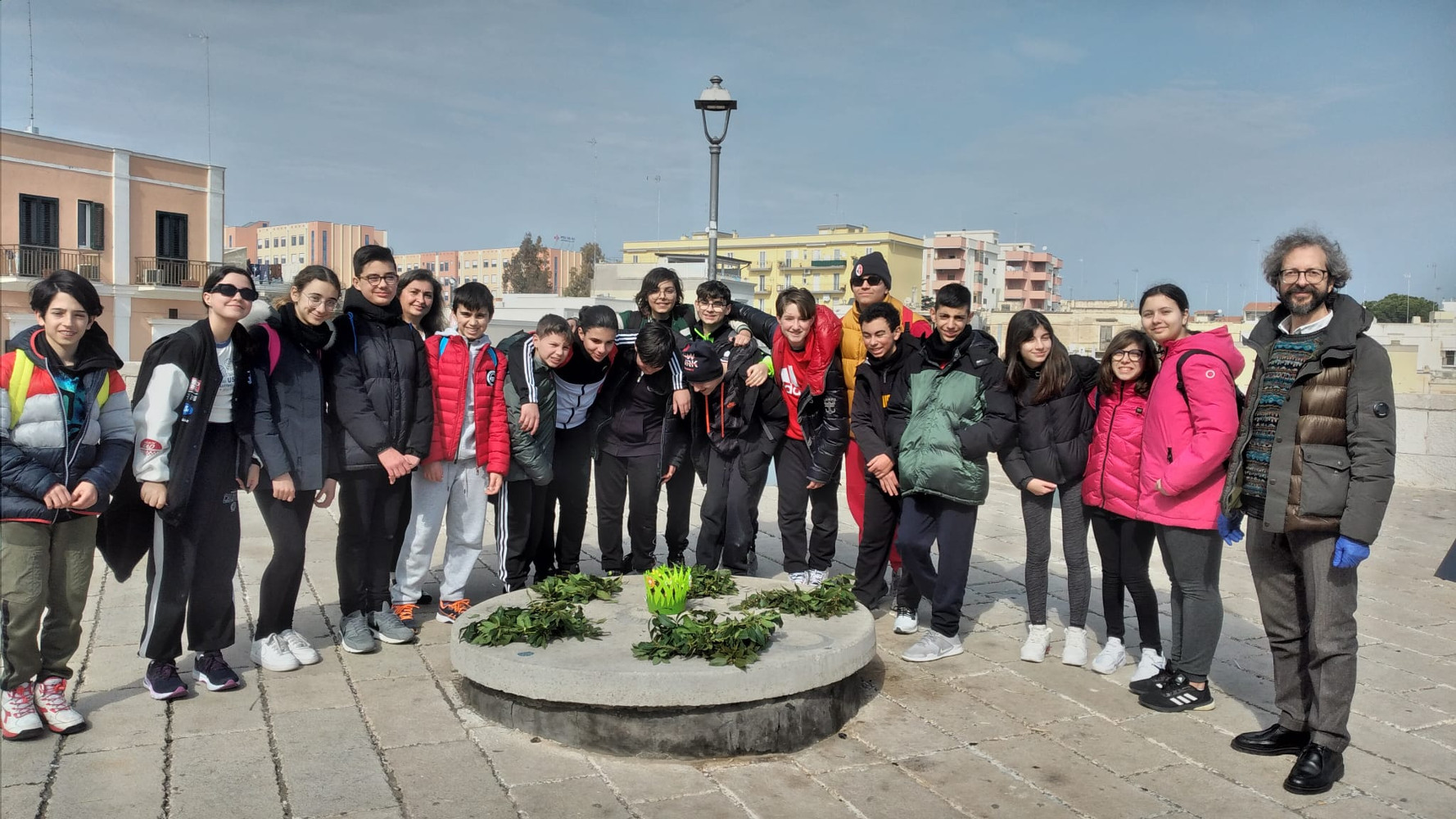 In the second meeting a conference was held. We discussed the origin of the "Terminalia", we reflected on some issues related to the concepts of border, delimitation, limits, walls starting from the origin of fraternal conflicts like that one of Romulus and Remus who ended up tragically for having crossed a "limit" as it was in use at the time if the "Term" was violated.
We have reflected on the different views of ownership between indigenous Indian peoples and i Dutch colonizers of the island of Manhattan who build a wall precisely "Wall Street" for separate from the natives.
During the last day a completely unique walk took place starting from the medieval church of Santa Margherita, full of stories and testimonies of stone and to follow along the city walls with the reading of excerpts and the declination of poems.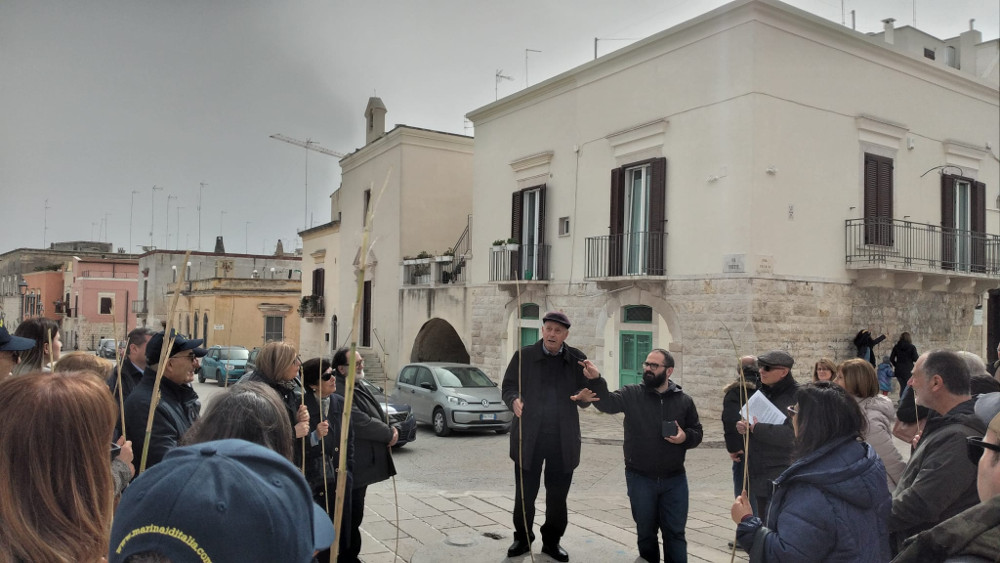 The rituals of "Beating the Bounds" were repeated in two specific boundaries, including the ecclesiastical one located along via Trieste at the height of Palazzo Ammazzalorsa.
The walk ended at the base of the sailors' monument with the deposition of three wreaths laurel as a sign of homage to the victims at sea.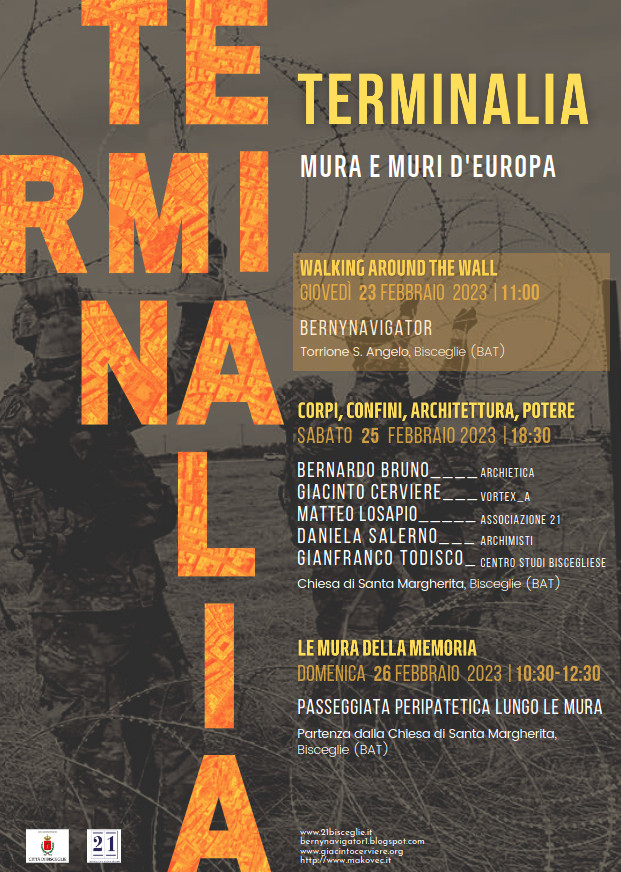 Thurs 23 Feb. 11am. Bisceglie, Italy. Walls and Walls of Europe #1: Walking Around the Wall
As part of the week long series of events in Apulia, Italy, the festival starts with a "sighting of places" performance by Bernardo Bruno "Walking Around the Wall"

Sat 25 Feb. 18:30. Walls and Walls of Europe #2: Corpi, Confini, Architettura, Potere (bodies, boundaries, architecture, power)
As part of the week long series of events in Bisceglie, Italy. Join a multi-voiced meeting "Walls and Walls of Europe" discussion with Bernardo Bruno (Archietica), Giacinto Cerviere (Vortex_A), Matteo Losapio (Associazione 21), Daniela Salerno (Archimisti), Associazione 21 and Gianfranco Todisco (Centro Studi Biscegliesi)
At Chiesa di Santa Margherita, Bisceglie (BAT)

Sun 26 Feb. 10.30am. Bisceglie, Italy. Walls and Walls of Europe #3: Le Mura Della Memoria (The walls of memory)
As part of the week long series of events in Bisceglie, Italy, Le Mura Della Memoria (The walls of memory) is a peripatetic walk along the walls of Bisceglie
Departs from the Church of Santa Margherita.

For more information visit the blog at https://bernynavigator1.blogspot.com/2023/02/terminalia-festival-of-psicogeography-vi.html
Thurs 23 Feb. 1pm. Stroud: Radical Stroud, Boundaries & Barrows, A Walk Exploring the Earthworks of Minchinhampton Common
documentation
We explored the lumps, bumps, tumps, mounds & barrows of Minchinhampton Common. Libations were made to the god Terminus and also to the local spirits of the common. There was much discussion of such things as the history of rabbits and the nature and pronunciation of the enigmatic "Bulwarks".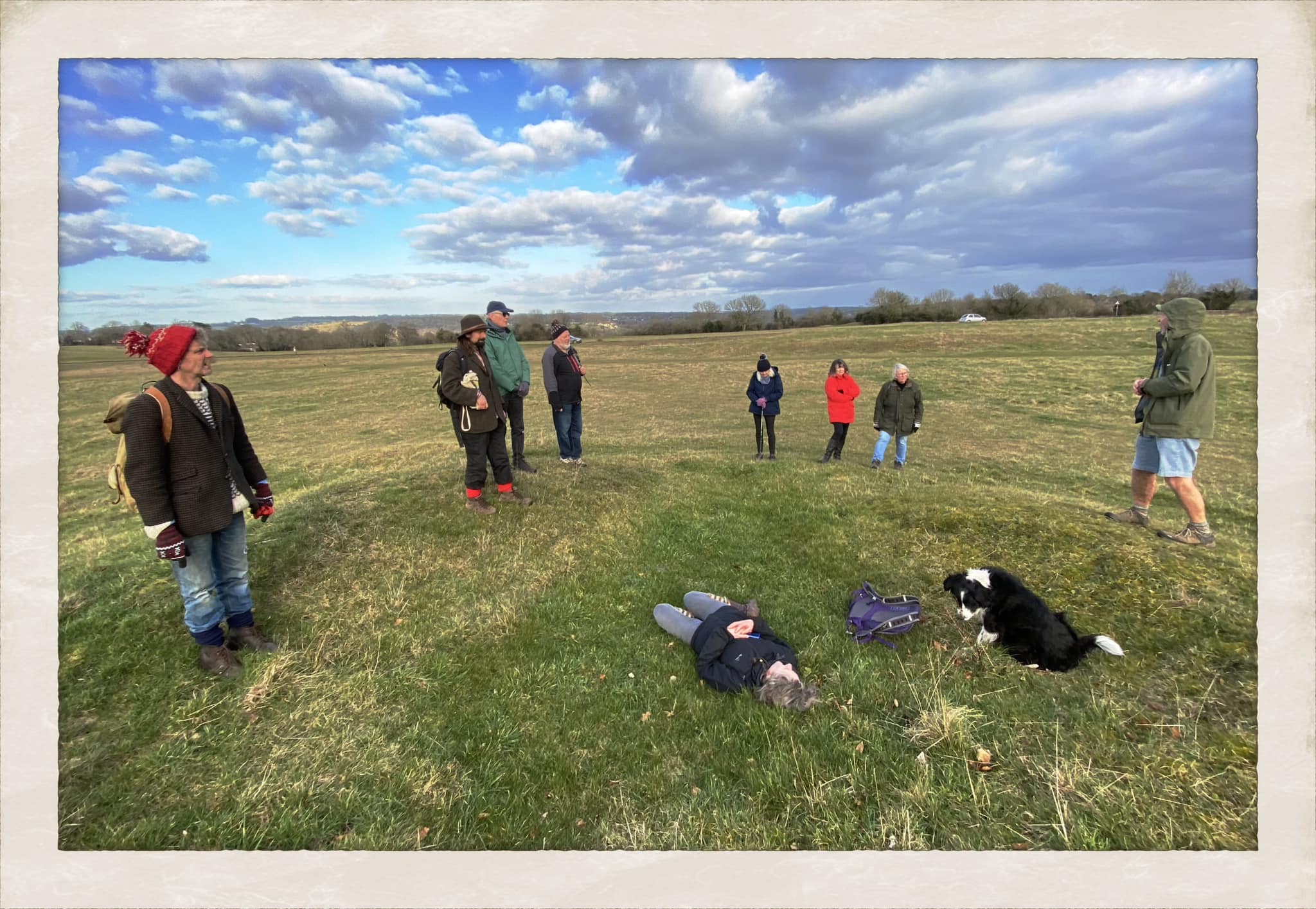 Here the group are relaxing at Whitfield's Tump, a long barrow reputedly used by George Whitefield to preach the gospel to a crowd of 10,000 people in 1742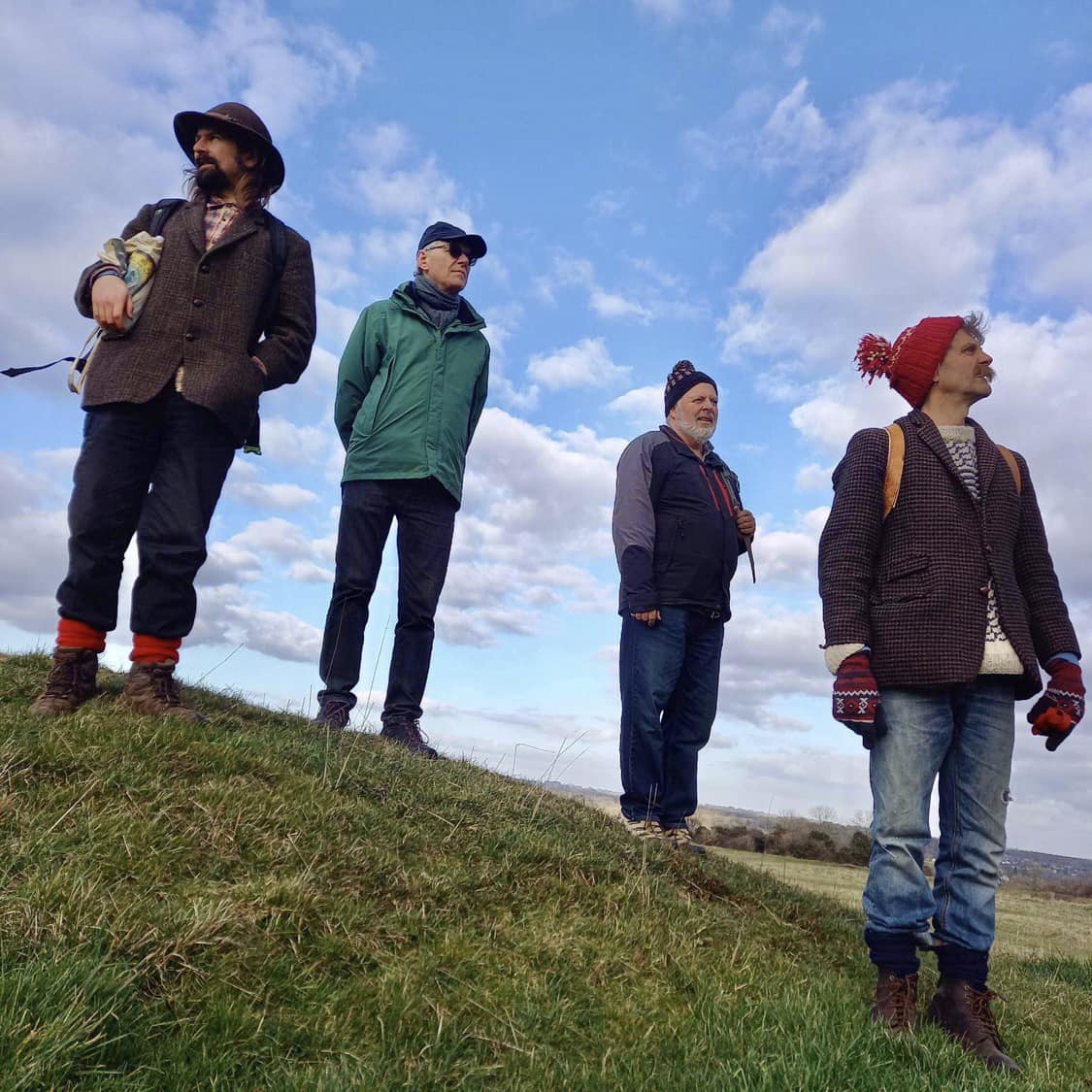 There are many earthworks on Minchinhampton Common. A glance at an OS map reveals Mounds, Barrows, Enclosures, Tumps, and the enigmatic banks and ditches of the "Bulwarks".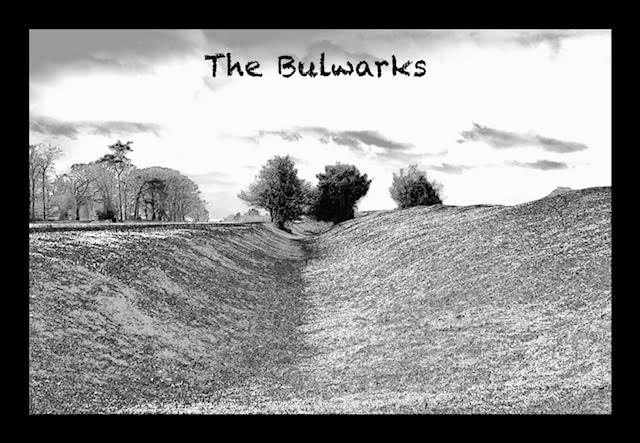 As a contribution to the Terminalia Festival 2023, Radical Stroud will undertake a circular walk to explore and celebrate these features. We will visit many of the prominent earthworks on the common and consider explanations for their existence. Theories both archaeological and folkloric, old and new, will be discussed and debated. New ideas are particularly welcome. We may even perform a ritual or two, honour Terminus or other local deities. 
Difficulty - The common is a level plateau for the most part. There are fine views of the Stroud valleys. The route will take place over some golf course areas, patches of rough grassland and the banks and ditches of some of the earthworks. No stiles or fences.  This will be a leisurely walk of about 3.5km/2m. 
There will be an opportunity for refreshments in the pubs of Amberley after the walk. 
Start (13.00) from the War Memorial at Amberley & Finish (approximately 15.30) - at the same place. 
Map ref SO 85097 01617 , What 3 words ///trickle.method.overgrown
Parking is available adjacent to the War Memorial at Amberley
Any questions or queries - threemthree@icloud.com
Thurs 23 Feb 2pm: Berlin, Germany. Photo Derive, Photo Walk
It will be a walk along the river Spree, former border between East and West Berlin and current border between two very interesting neighbourhoods ... living through turbo gentrification but (as is typical of Berlin) not without encountering expressions of resistance.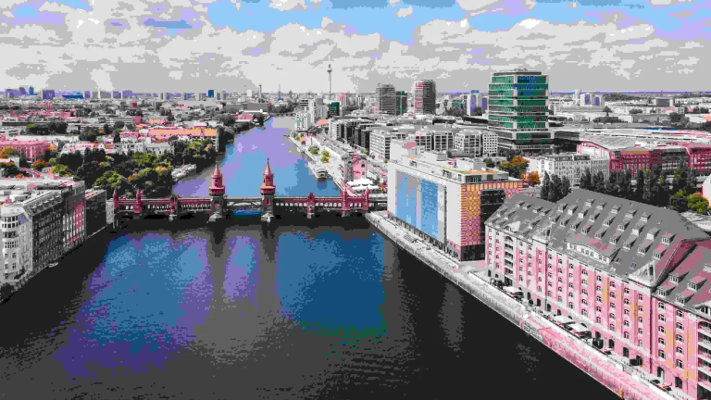 This photo walk is free of charge, but we ask that you register so we know how many people are attending.
Departure / Meeting Point: At 14.00 h under the Oberbaum Bridge entrance on the Stralauer Allee side (East side of the Bridge)
At the end of the walk we will meet at Holzmarktperle, the cafe at Holzmarkt 25, for a hot or cold beverage of your choice and share impressions of the walk. Holzmarkt is an iconic space along the river banks, self organised and beeming with cultural spaces.
More details on the PhotoDerive site
Thurs 23 Feb. 2:23pm: ArtCouple: Mind the Time
documentation
ArtCouple (Simon Bradley & Ursula Troche) ventured out into the freezing stillness of Anthorn in the hope of detecting the Time Signal from the National Physical Laboratory's transmission site. Time at England's edge.
Mind the Time, watch this space, listen to the sound of time-transmission.
Three atomic clocks kept us in check as we wandered around the perimeter of the site.
Neo-meridiian, post-Greenwich time frame accentuations, fluctuations... and somewhere buried in the layers of noise, the Time Signal itself! Mumble, burble, squelch.
The birds knew all, but weren't telling.
Mind the Time video on Vimeo
For Terminalia this year, ArtCouple will be visiting Anthorn Radio Station where the National Physical Laboratory time signal is transmitted from three atomic clocks. Hopefully we'll be able to detect some sounds and radio frequencies without being arrested.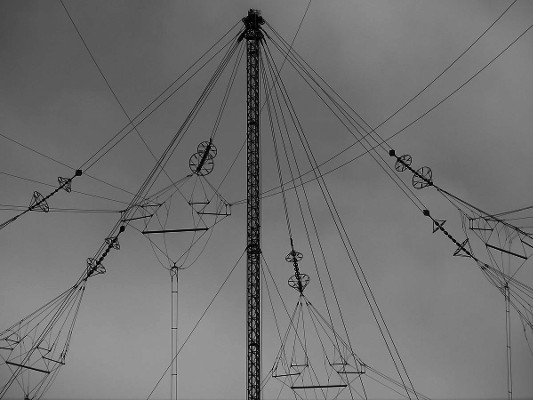 Anthorn image by James T M Towill (CC-BY-SA)

The drift will take us around several local features and have us looking out over the Solway across the border towards Scotland. Birds will feature largely in this designated Area of Outstanding Natural Beauty... and Time. 
The intervention will commence at Anthorn's Island bus-stop, all are welcome. We should be done by sundown. Bring something timely.
Thurs 23 Feb. 7pm Leeds: Cath Otpangei: Terminalia Walk Around the City
As an interdisciplinary practitioner, my practice is deeply rooted in the realm of psychogeography and its intersections with the urban realm. My work engages with the concept of dérive, which is a technique that aims to reveal the unconscious landscape of the city through drifting and exploration.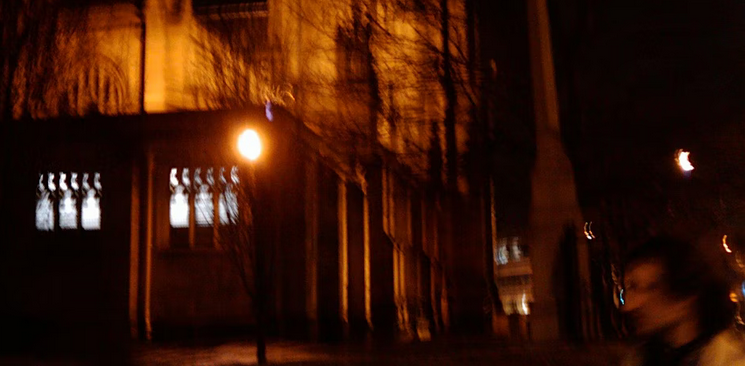 For Terminalia 2023, I am proposing an immersive, interactive and site-specific event that navigates the complexities of a designated area within Leeds. Through this event, I aim to unveil the hidden narratives embedded within the urban landscape and to subvert the hegemonic structures that shape our understanding of place. The event will commence with a contextualization of the designated area, utilizing cartography as a medium to highlight the key landmarks and points of interest. The participatory walk, guided by performative prompts, aims to elicit a multisensory engagement with the site and prompt the audience to question their relationship with the urban environment. The event concludes with a collective debrief where the audience can reflect on their experience, and engage in a discourse about the psychogeography of the area and its role in shaping our understanding of place.
The walk tour will begin at a pre-specified locaton (details sent to participants before) and will take participants through the following places in no specific order:
* The Headrow: This is the main shopping street in Leeds, where walkers will be encouraged to observe and engage with the commercialized landscape and its impact on the urban environment.
* Kirkgate Market: This is one of the oldest markets in Leeds, where participants will explore the history and culture of the area and its significance to the community.
* The Abandoned Subway Station: This abandoned subway station that was once a hub of transportation, but has been forgotten and left to decay. People on the tour will explore the eerie atmosphere of the abandoned station and the ways in which it contributes to the sense of urban decay.
* The Calls: This is a historic area of Leeds that was once a hub of industry and trade, where participants will explore the impact of industrialization on the urban landscape and the way it has shaped the city.
* The Secret Garden: This is a hidden garden that exists within the city, but is known only to a select few. Participants will explore the beauty of the garden and the ways in which it serves as a contrast to the urban landscape, offering a peaceful respite from the hustle and bustle of the city.
* The Dark Arches: This is a network of underground tunnels and arches under the Train Station that were once used for storage and transportation. Participants will explore the hidden and abandoned spaces and the way they shape the urban landscape.
* The Tetley: This is a former brewery that has been converted into a cultural center, where together we will learn about the history of the building and the ways in which it contributes to the cultural identity of the city.
To sign up please add your name to the Tickets for Terminalia Walk on Eventbrite. You will be contacted with the starting location a few days before.
Thurs 23 Feb. Solo performance: Patrick Ford: '20 Minute Diameter Leeds'
documentation
Patrick writes:
As part of 4WCoP 2022 (Fourth World Congress of Psychogeography), Mathilda Guerin created a project entitled 'Walking Webs', inviting people to participate by creating a walking web of their own city and I created my own walking web in Leeds, my home town in the UK.
My walking web was created, according to the supplied instructions, by walking from a selected starting point, North, South East and West. Along each of these axes, we were asked to walk for 10 minutes and 20 minutes respectively and to take a photograph at each of these points. It was then possible to connect up all four of the 10 minute points and also the 20 points.
My walking web, and the photos taken after walking for 10 minutes and 20 minutes can be seen here: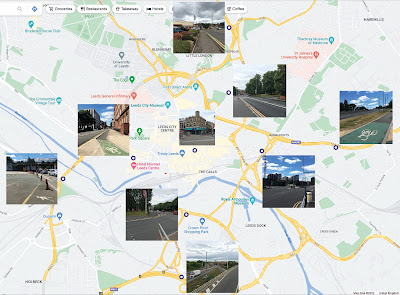 On Thursday 23 February 2023 I started walking from the northern point, close to the College of Building on North Street, walking clockwise.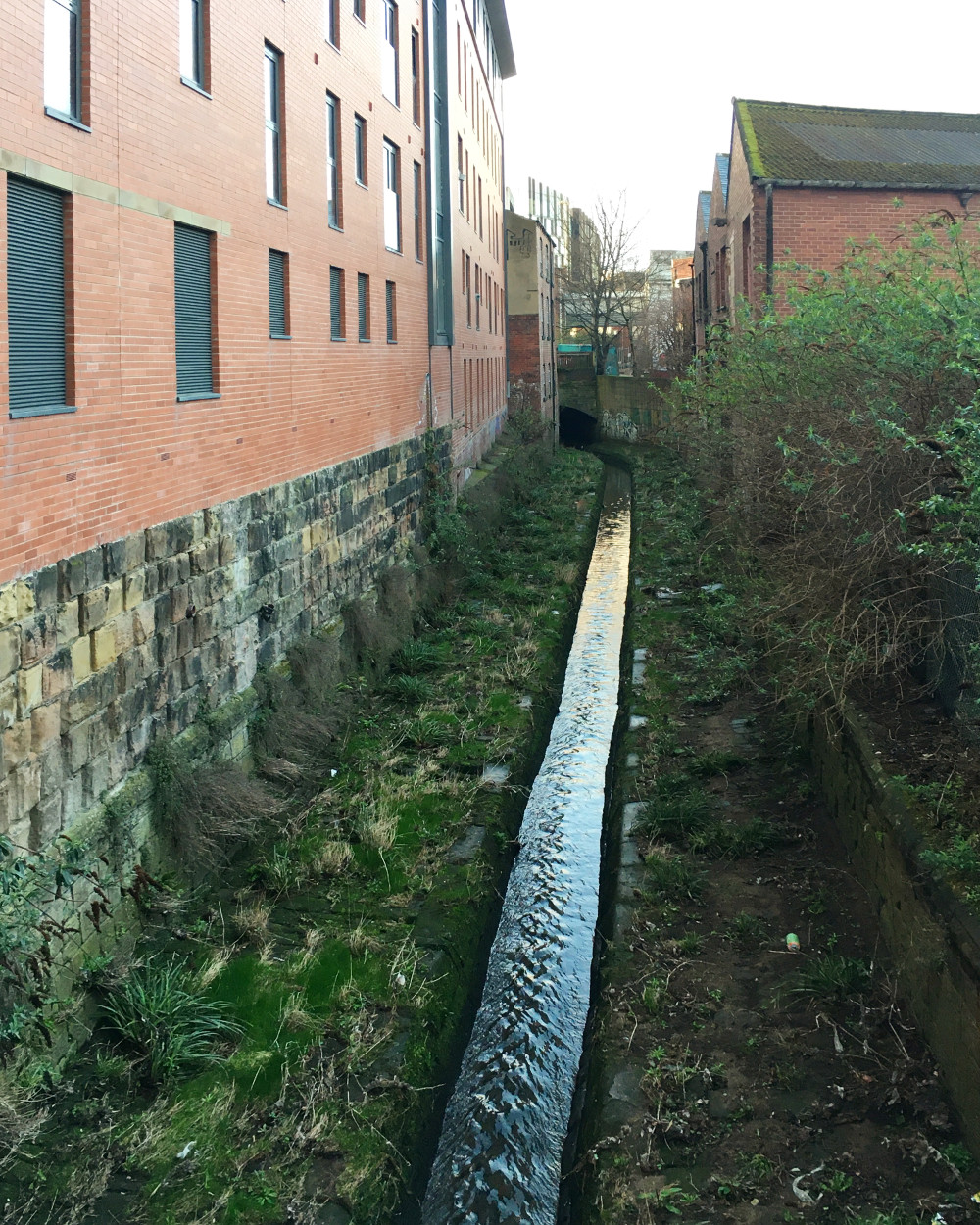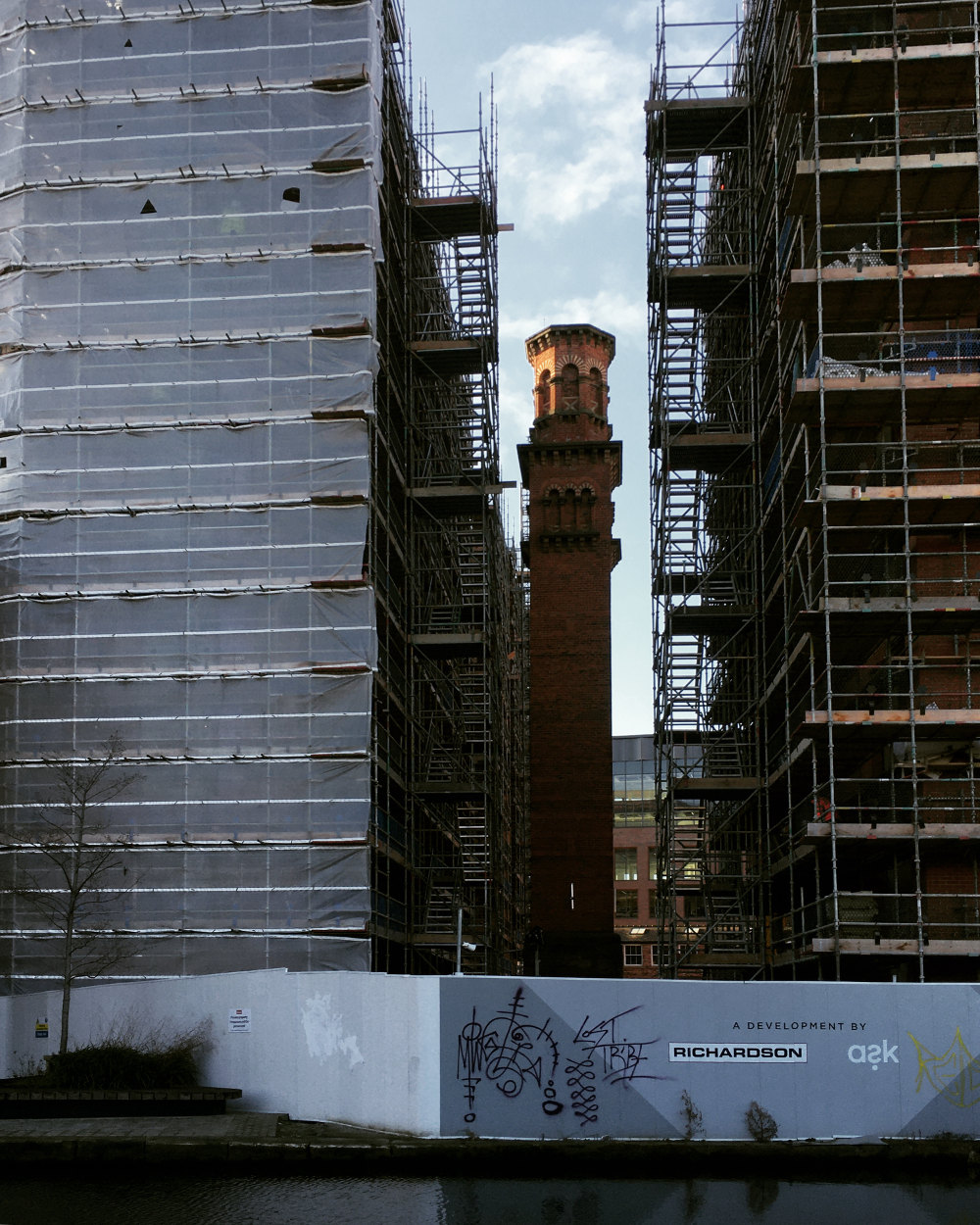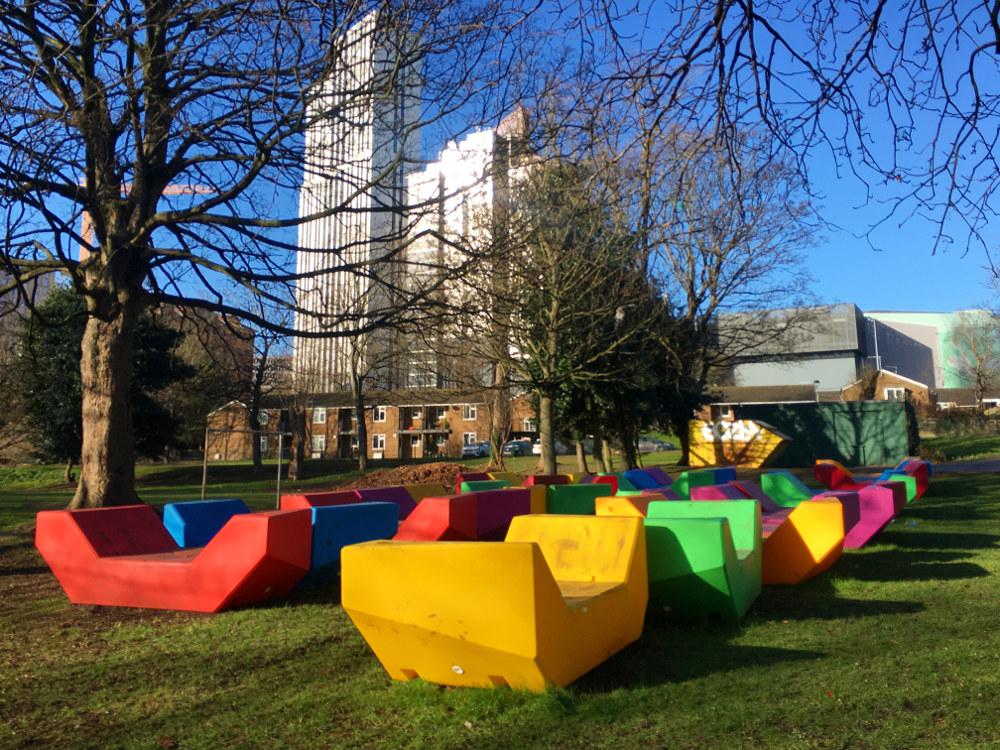 For the full write up, more maps and photos, please visit Patricks site here:
https://33temple.blogspot.com/2023/03/20-minute-diameter-leeds-terminalia.html
On Thursday 23rd February, Patrick will walk a roughly circular route around Leeds in West Yorkshire. To mark the festival this year, Patrick will walk the route of a walking web he made in Leeds for a project presented by Mathilda Guerin at the 2022 4th World Congress of Psychogeography.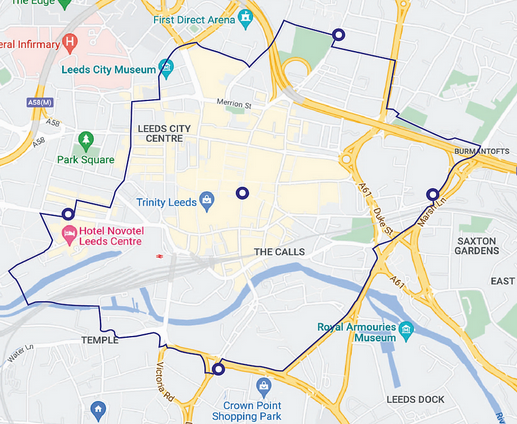 Patrick created a map indicating way points representing the location reached after walking 10 & 20 minutes North, South, East and West. For Terminalia 2023, Patrick will walk a clockwise, circular route, linking up all of the 10 minute way points, beginning near to the College of Building on North Street. 
For more details visit Patricks website for the performance https://www.patricksford.com/performance-1
Fri 24 Feb. 2pm. Your shopping mall: Nicola Mazzuia - NON-PLACES TOUR (THE MALL)
Wandering through a shopping mall as an act of rebellion.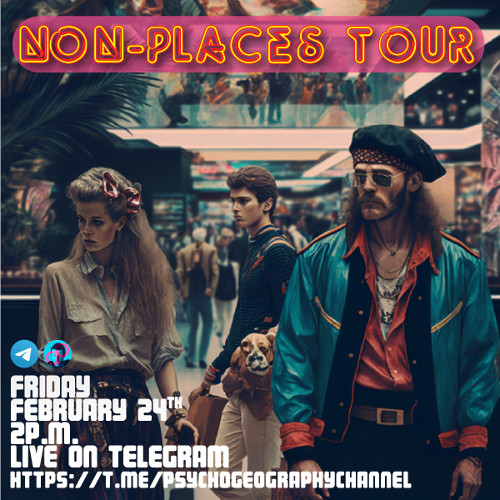 Everyone will walk around the mall alone, but at the same time, we will share the experience through the Telegram channel. You will be led by a voice that will propose reflections and practical exercises. 
It is going to be a 'psychedelic' journey in the etymological sense: we aim to bring light through the psyche, to break preconfigured patterns in order to see things from a new perspective. 
We are going to deal with a bunch of contradictions through the observation of ourselves in space, triggering reflections on our lives both physical and virtual.
At a particular time such as the one we are living through, the sense of this experience echoes in the words of Eduardo Kohn: 'and it is precisely this upheaval, the breaking of old habits and the reconstruction of new ones, that constitutes our feeling of being alive and in the world. The world reveals itself to us not because we have habits, but in the moments when forced to abandon old habits, we assume new ones'.
To participate, you must go to the nearest shopping centre on Friday 24 February at 2 pm. We will all start together in front of the entrance, (or rather in front of the entrances, ideally a different one for each participant). 
You must have an internet connection on your mobile phone, have the Telegram application installed, and have joined the channel: 
https://t.me/psychogeographychannel
Don't forget to bring a pen and paper and a little bit of recklessness!
Sat 25 Feb. 1.30pm. Scotland. Tamsin Grainger & Ewan Dawson: A Terminalia community walk along the Edinburgh / East Lothian border
documentation
Ewan writes on his blog River of Things
: We go rather uncertainly to celebrate Terminalia, this involves following an invisible line between Edinburgh (Capital City, Athens of the North, Up the Toon, Fur Coat and No Knickers) and East Lothian ( Home of Scotlands Flag, Country Living, Doon the Club and Ah Kent Yer Faither) which seeks edges – a burn mouth, the enclosing boundary wall of a Palladian mansion, a railway line, and then some field boundaries around the back of the village of Newcraighall…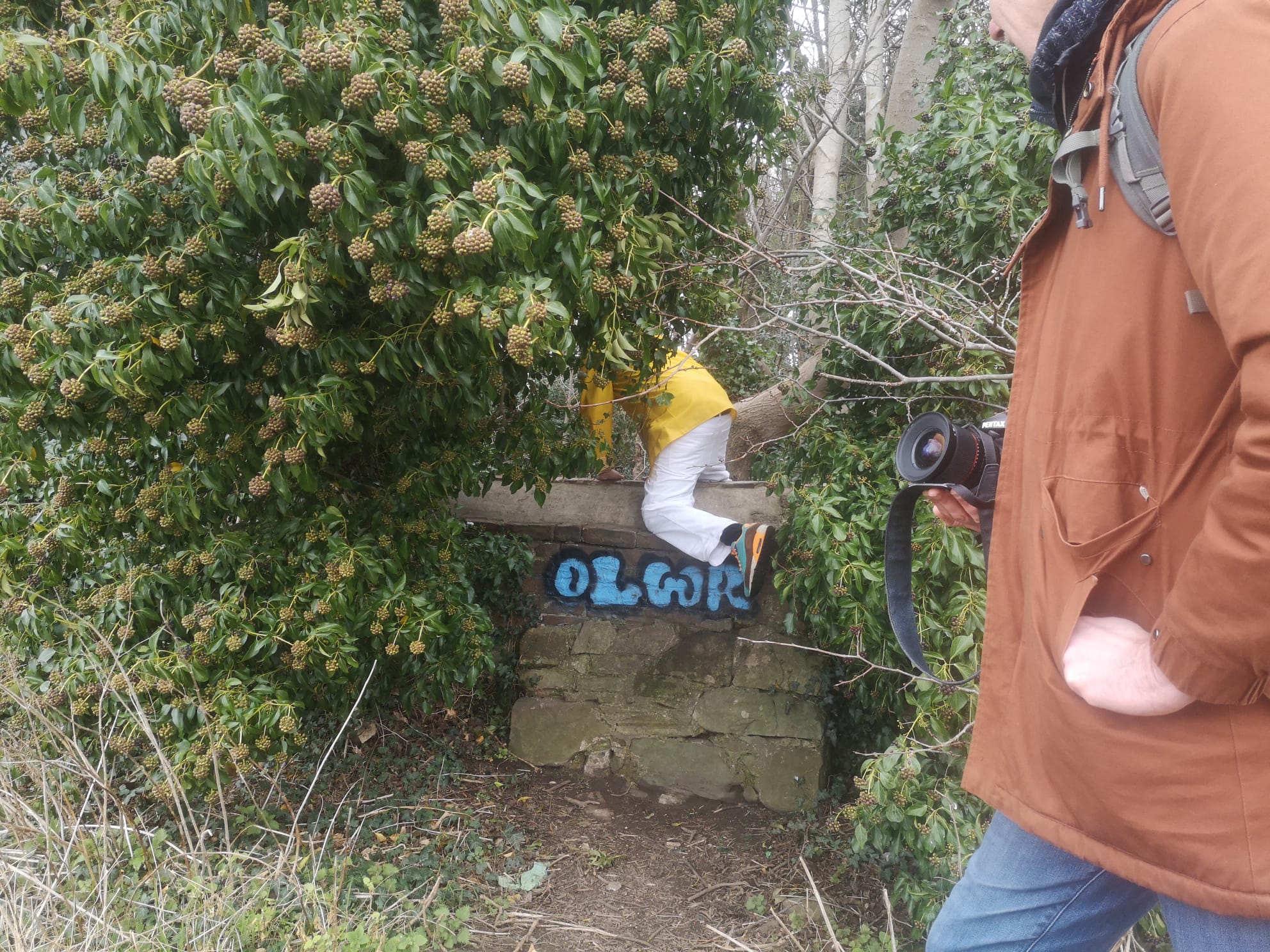 Invisible lines are more agile than psychogeographers, so we have had to deviate from the line to walk through some identical housing schemes ( occupied and hopefully vacant) and along freshly paved roads. At the end of these there is a gap in the line of trees and a desire path crosses the wall which hosts our boundary, and leads into the fallow fields and scrub beyond.
My libation is a pack of pilfered seeds ( 'Wild Bumblebee Mix' to be specific and ironic). Just beyond the wall someone has flytipped a pile of garden compost, which seems a nice invitation.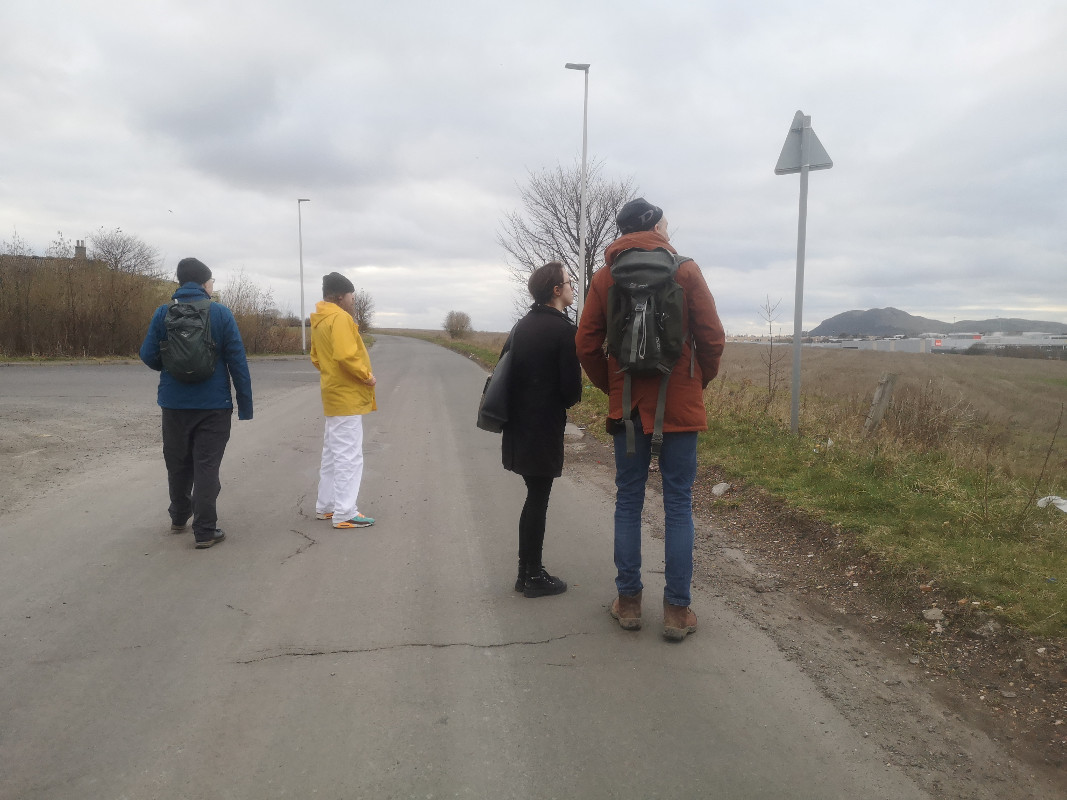 For the full blog post, more information and photos visit here:
Libations
Come with us to celebrate Terminalia (or near enough) as we look for the invisible line that marks the edges of Edinburgh and East Lothian. Along the way we'll encounter hermits, skylarks, horses, incinerators, filmmakers and probably some mud (bring suitable footwear and your own libations and feasting materials).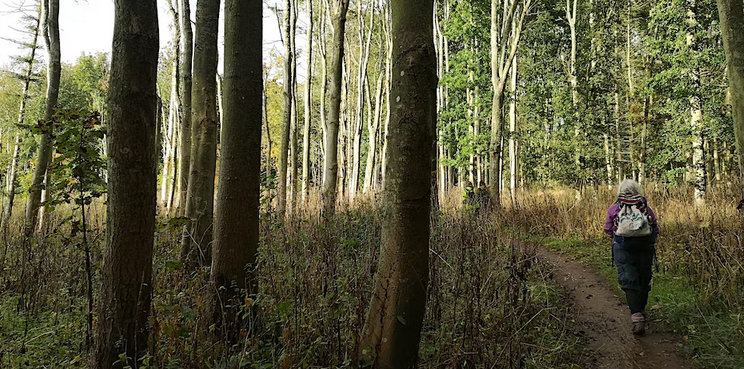 Starting point - car park of Booker Cash and Carry, on the left between Eastfield and Musselburgh (bus routes 26, 44, and various East Lothian County Buses).  End point - either Newcraighall village, Fort Kinnaird shopping centre (both are on the Lothian Regional Transport bus route 30), or Shawfair railway station depending on your stamina and inclination.  
There is not much in the way of refreshments and loos on route but we will route via Newhailes National Trust for Scotland (which has loos) and a faux pub at Newcraighall (The Cuddie Brae) which will offer a potential alternative terminus for those who have tired of spoil heaps and culverts.
On the day some thought might be given to using the train for the last part of the route between Newcraighall and Shawfair stations.
We've designed this as a uni-directional walk but a round-trip can be completed by taking the train back from either of these to Brunstane British Rail and either catching #44 bus or walking to where we started.
Book via eventbrite https://www.eventbrite.co.uk/e/a-terminalia-community-walk-along-the-edinburgheast-lothian-border-tickets-534877261287 or just come along and meet us at the start.
By Ewan Davidsonand Tamsin Grainger Tamsin Grainge
Sun 26 Feb (or anytime). 10am. Sonia Overall: Terminalia #DistanceDrift
Distance Drifts are scores for walking alone (or in small groups) together. To join in you will need a mobile device and a Twitter account. FFollow @soniaoverall and DistanceDrift to receive a walking score for Terminalia at 10am on the day.
Using the Twitter thread, we will share responses, connect with other walkers and discuss our experiences. The live walk will be an hour in duration. Asynchronous participation is very welcome - follow the thread #DistanceDrift on Twitter to share your responses after the event.
Sun 26 Feb. 12pm Ghent, Belgium: Witold van Ratingen & Ienke Kastelein: Ommekeer / Turnaround
documentation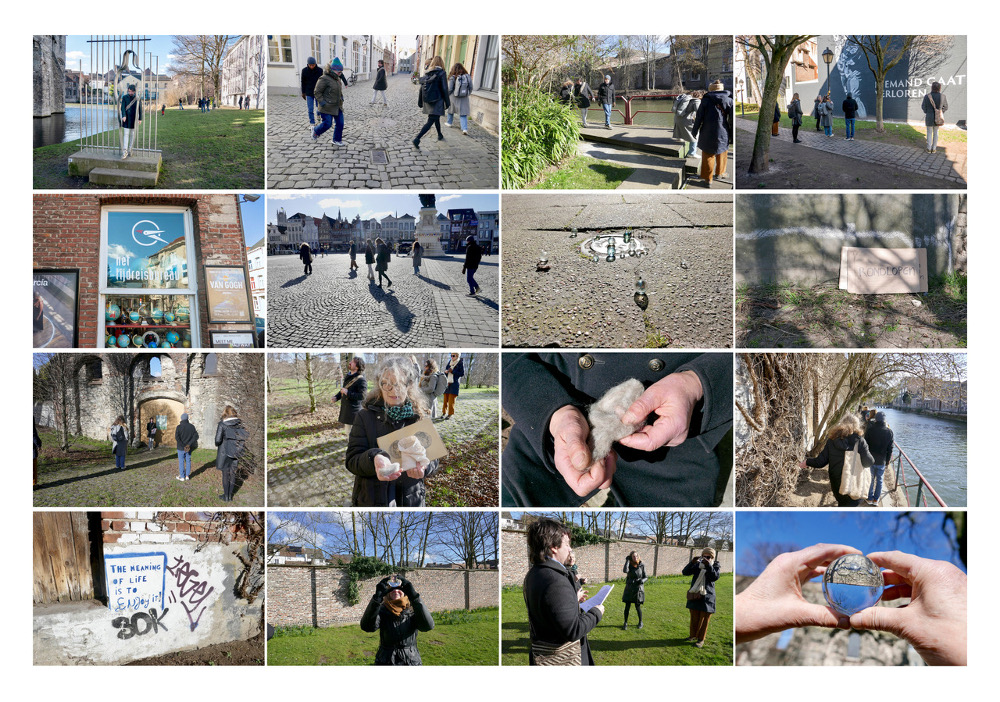 Witold writes: The starting point of our walk today, at the Sint-Veerleplein (Saint Pharaildis' square) – "at the end", as you can read there on the facade – is no coincidence. This place is known informally in Ghent as the square of death, used in the Middle Ages to conduct the most gruesome executions. I will spare you the details, but they involved very large cooking pots. Today, the square has become a place where the start of new life is celebrated. Each time a child is born in a Ghent maternity ward, the lanterns on the square sparkle festively.
It was Julius Caeasar who later moved the start of the year to January, where it has since remained. January, named after Janus, the Roman god of gates, transitions, doors and passages. In the later Roman Empire, Janus would take an increasingly important position in the pantheon. Janus was attributed mastery over time itself: he ruled over history and future, over the origins of the world and of every human life.
In daily life, Romans ritually rubbed wolf fat on their doorways, to keep out evil spirits and invite Janus to bless their families with new life. We have unfortunately had to conclude that EU regulations these days have rendered wolf fat a difficult product to obtain. We have considered substituting wool fat, but ultimately decided to spare you the sticky fingers. So we will make do with a piece of wool, allowing you to beseech Janus' blessings when you get home.
Strange, though, to have two gods. If Janus governs time, he should oversee all beginnings and endings alike. So why would we still need Terminus, the god of the border? What silliness to divide this power between the two. Wouldn't it be much more elegant to interpret Janus' two faces by deciding that Janus and Terminus are one and the same, that one refers to beginnings and the other to conclusions?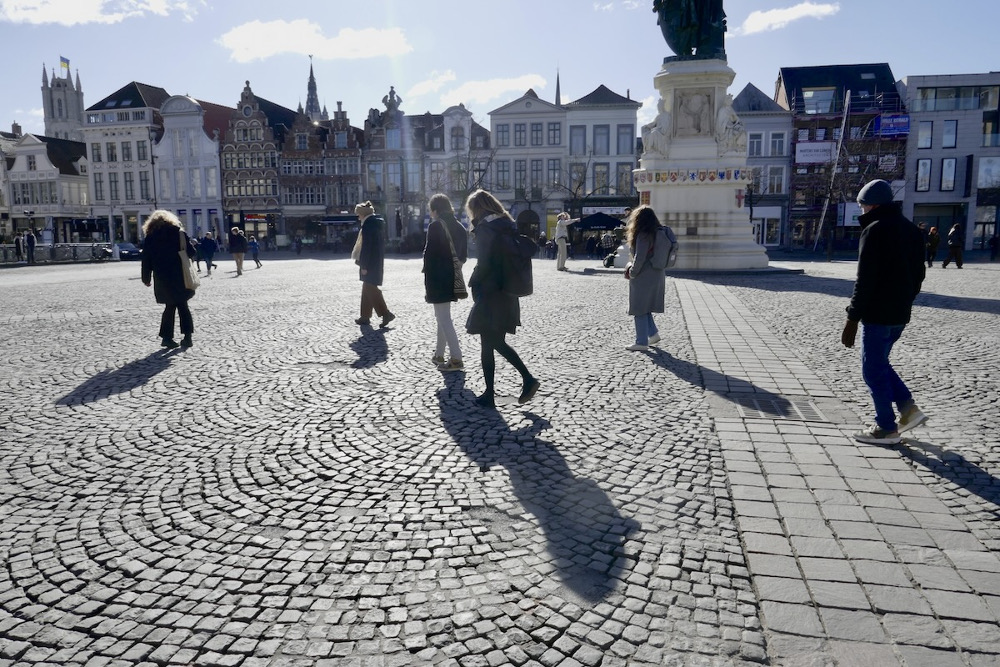 Oh well. If we must have two separate gods, Janus for the beginning and Terminus for the end, I am afraid that Janus is at least a little overrated. People love beginnings: newborn babies, youth, first loves, promising start-ups. Pure desire, pure future, without all those heavy memories and hard-learned lessons weighing them down. The lightness of new being isn't unbearable, it is simply blissful.
Still, each beginning only draws its significance from an ending. As Heidegger writes, death does not approach us from the outside; it is part of us, the kind of creatures that we are, and its shadow impregnates our lives with meaning. Things that have begun, says Augustine, will always be a source of great anxiety, until they have been brought to an ending, an ending to which our minds are ever set with great anticipation. So it is with all lives, all years, all walks: it is finitude that makes them what they are.
Spring is coming, and we will not have to wait long for a new beginning. The Romans saw every New Year's Day as an omen for the rest of the year, and so they spent it wishing each other good fortune, and exchanging dates, figs, and honey. May your futures taste sweet.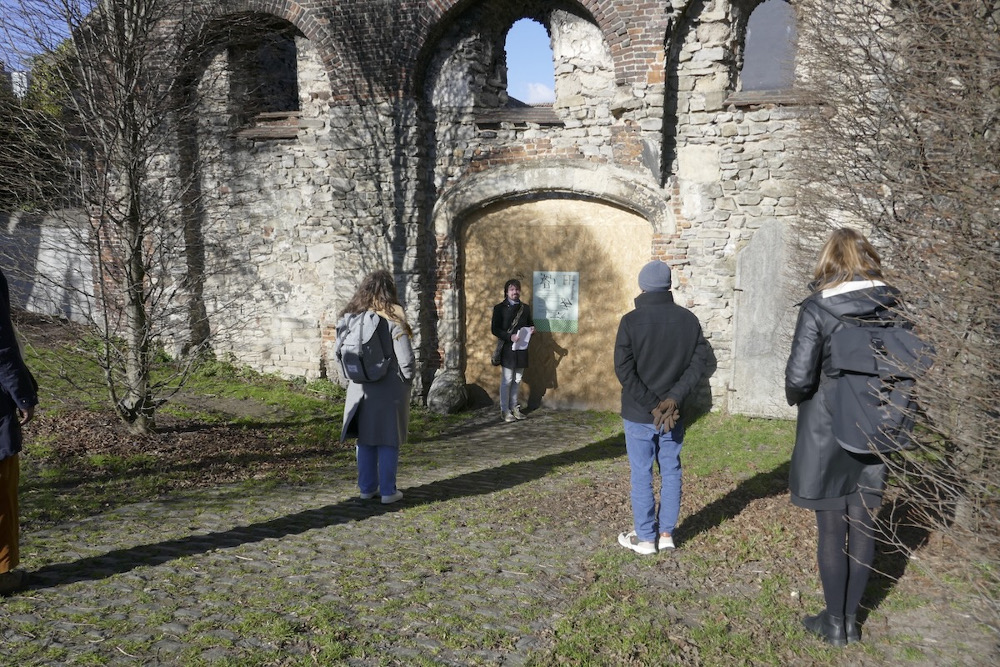 (Photos by Hans van Lunteren and Ienke Kastelein)
To view the full documentation:
Terminalia_2023_Ienke_Witold.pdf
(pdf)
As part of the festival, Ienke Kastelein and Witold van Ratingen organize an annual participative walk with choreographic and textual elements. This year, the celebration of Terminalia of the Low Countries takes place in Ghent: a walk as a turning point, looking back and forward with a Janus head and a handkerchief as props.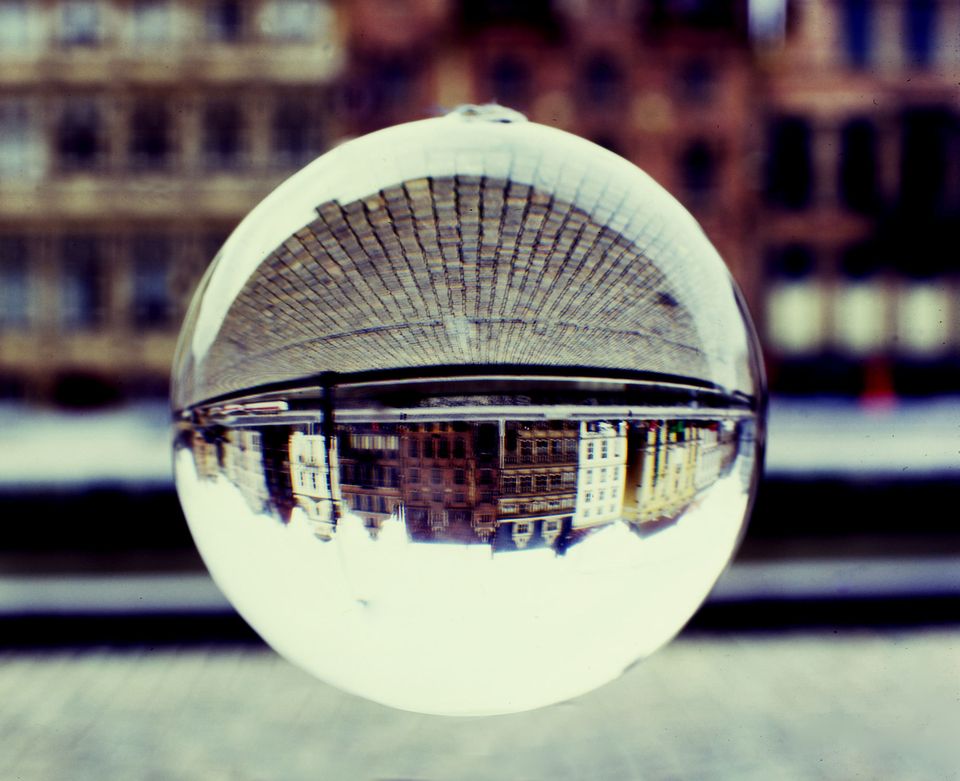 Required: interactive participation, comfortable walking shoes, weather-appropriate clothing.
Point of departure: Sint-Veerleplein, Ghent (near Castle Gravensteen)
For more information and to sign up visit the facebook event page
Sun 26 Feb. 2.30pm. Bristol: Sam Jenks / Paul Bradley. Queerscapes Terminalia
documentation
A small but diverse group of LGBTQ writers walked a kind of semi-dérive, semi due to the fact we did have a desired finishing point.
We were keen to avoid the trap of it becoming a queer history walk and so much of our conversation along the way was about how we as LGBTQ+ individuals related to the city. Our drift effectively started in Leonard Lane a narrow alleyway with double yellow lines! From that point on, attendees took it in turns to choose the direction at each junction, though with our end point in mind.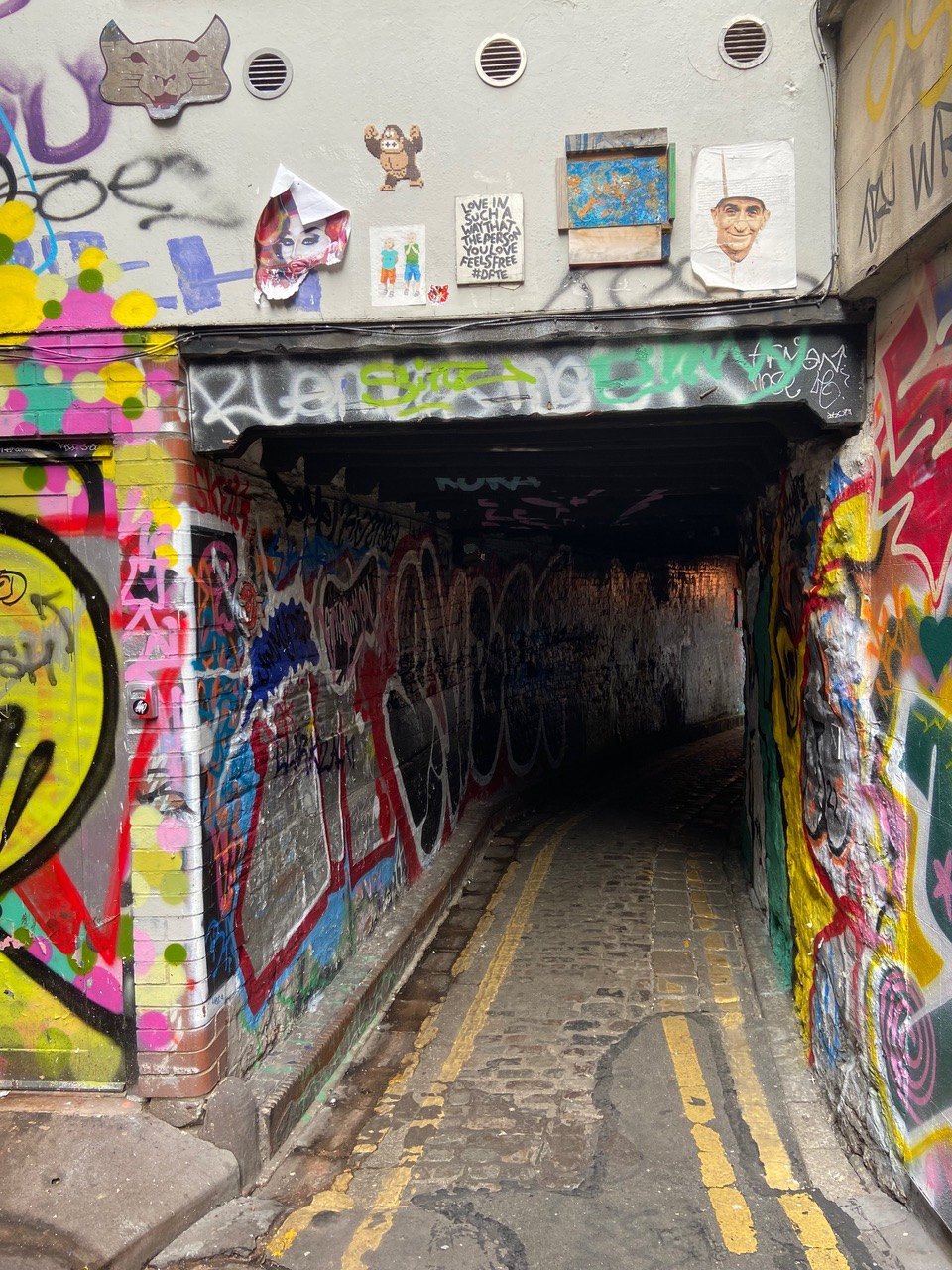 You will see form the map of our drift, that we followed a large portion of the city wall, interestingly without being totally aware of that fact. We thought about this boundary and what it might have meant in the past, what it means now for queer people. We looked out for the boundary markers set into walls and buildings along this part of the route.The group also particularly liked a set of steps built into the wall, a portal between inner and outer.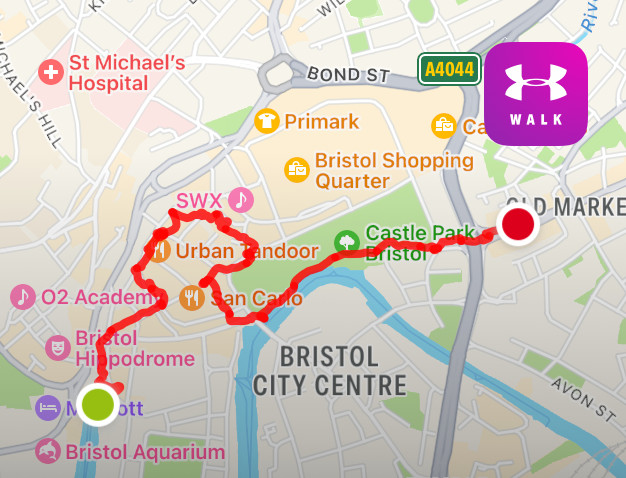 The group also particularly liked a set of steps built into the wall, a portal between inner and outer.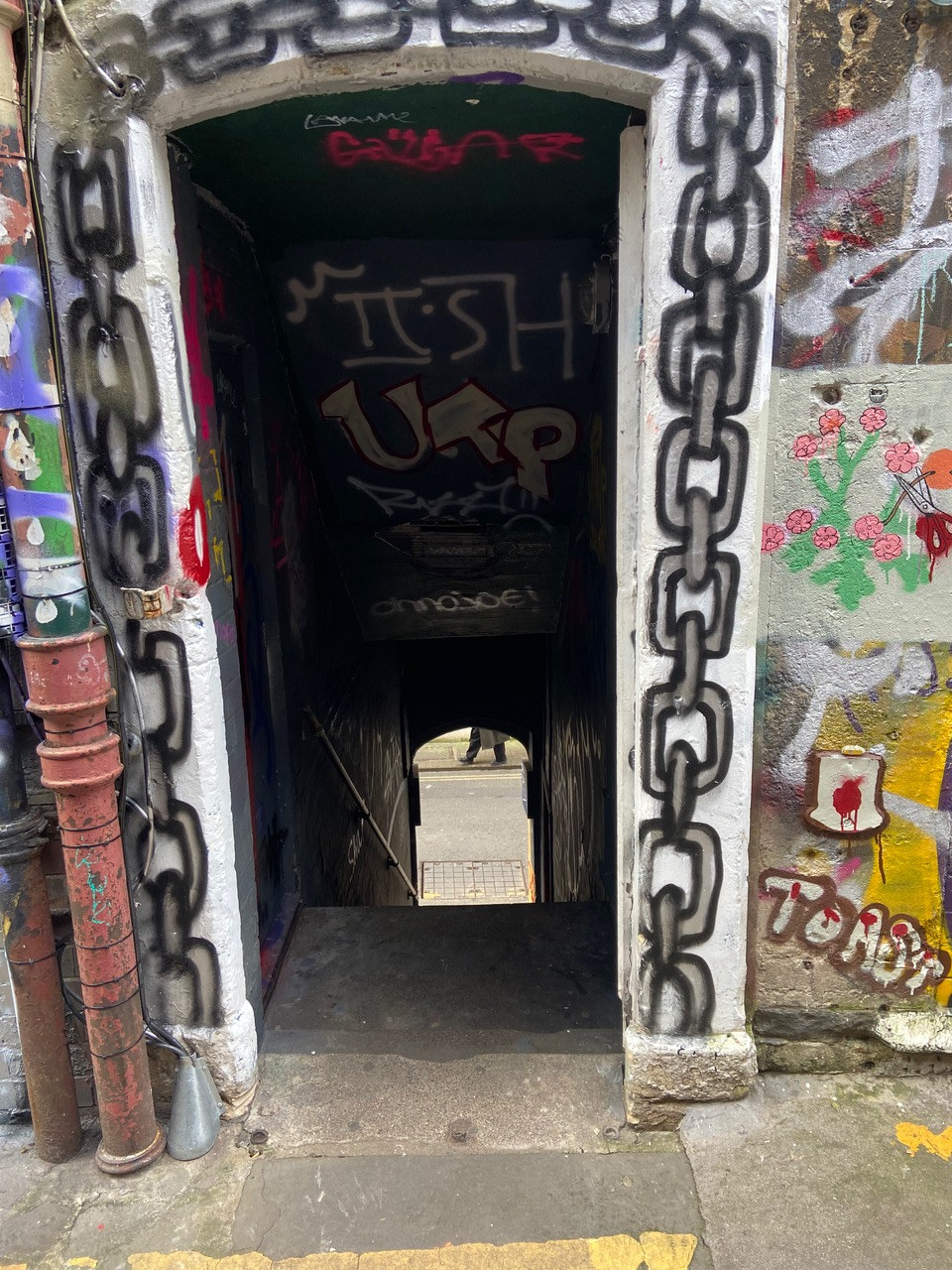 For the full report (PDF) you can download it here
Queerscape_Terminalia_Notes.pdf
A walk to bring together LGBTQ+ writers to consider the city, the urban environment and how we write about it. To explore what opportunities it offers us to bring the city alive in our writing. I also want to tease Terminus a bit to be honest, he's all rules and boundaries, but like in Rick Riordan's Percy Jackson books, I reckon Terminus has a soft spot for people who use their quickness of mind to bend around them. We can do that! The activity is meant to fun, absurd even. And please be gentle with me, I've never done anything like this before!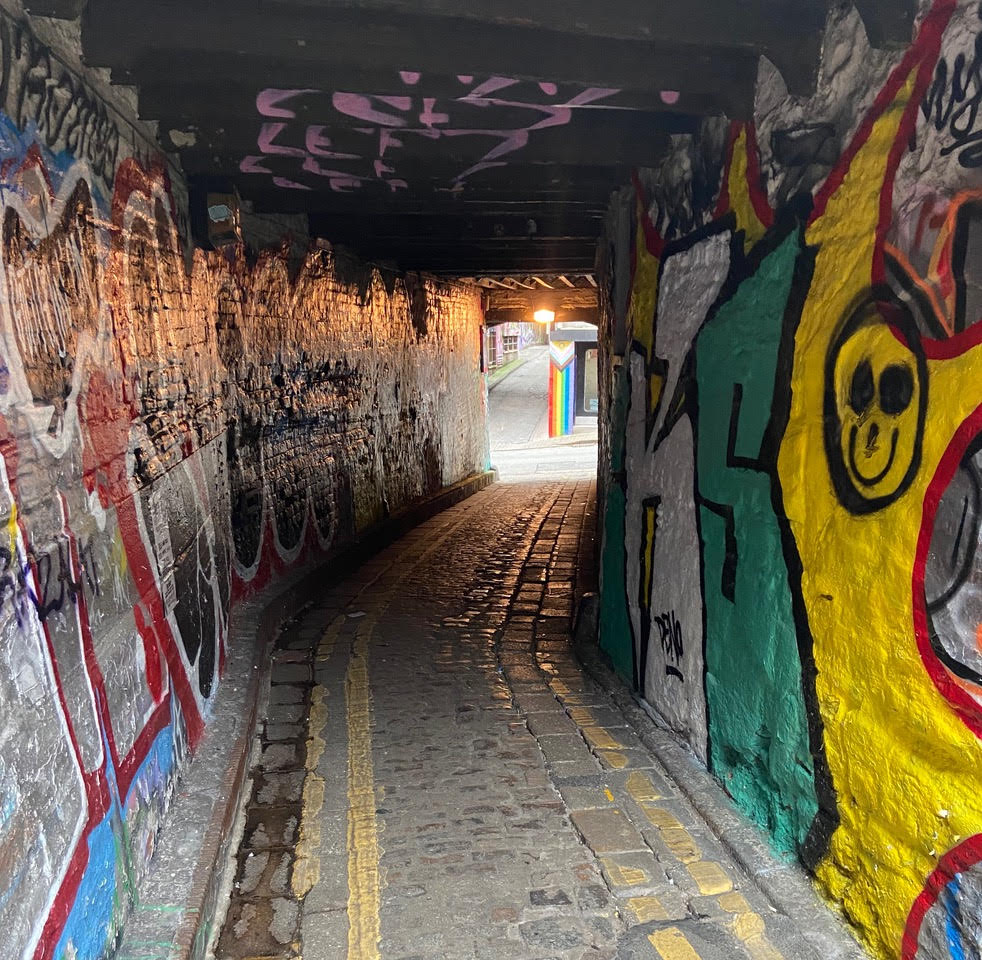 We will meet at the Watershed Cafe, Bristol, from 2.30pm and then at 3pm head off on a pretty random walk through the old city and touching on the old city boundaries and then beyond and on to Old Market.
Along the way, it's very much up to who is there and the direction we take but these are some of the things I've made a note of and might be doing:
- listening to other walkers stories about how they relate to the city
- thinking about actual boundaries and how they might have shaped the LGBTQ+ layers of the city. 
- looking out for city boundary stones and markers.
- talking with others about the queer geography of the city, how I relate to it as a gay man.
- looking out for lines of desire.
- refer to the Outstories App of LGBT+ Bristol
- map my walk on an app I have on my phone
- makes notes as I go along include photographs, sound recordings, written notes.
- collect archival material should the opportunity arise.
- finish up at either Wardrobe Theatre or Old Market Tavern (tbc) for drinks , snacks, where we share our stories, interpretations and responses to the walk.